The holiday shopping season here at Anna Delores kicks off with
Teascha
from
The Tea Rex
on
Etsy
! One of my personal favorites, The Tea Rex offers some gorgeous, unique, versatile, and oh-so-comfy
scarves
made from the softest jersey and cutest fabrics ever.
Teascha's inspiration for her fabulous wares are pretty straightforward: "Sometimes I just see a fabric or a print and fall in love with it and that alone will inspire me," she says. "I spend a lot of time pulling fabric and trying to match it to something. I really like pairing things that you wouldn't normally think go together. I like my accessories a little funky and unconventional. I always try to make my final outcome something I'd be proud and excited to wear." Consequently, all her customers are excited to wear her accessories, too.
I was able to snag Teascha's attention before she became too busy with the holiday season, and you should too! Check out her shop ASAP to pick up the sweetest scarves on the Internet and you'll be able to cross quite a few people off your holiday shopping list. Lucky for you, you'll also get to snag some discounts while you're at it; Teascha told me, "
I will be posting a pretty sweet coupon for Black Friday
[on
Facebook
; "like" her now!] ...but it will only be available for a few hours. I will be posting a coupon on my Etsy page for
Cyber Monday
, but it won't be as good a coupon as the one that will be on my FB page on Black Friday."
So don't dilly-dally! No sleeping in after turkey for you.
Teascha describes her "workspace [as] out of control. I have stacks of fabric everywhere. At one point I tried to organize by color and print but I am constantly pulling fabric off my shelves in order to match it to other fabrics and I'm horrible at putting it back where it belongs. You would probably be terrified if you saw my sewing room."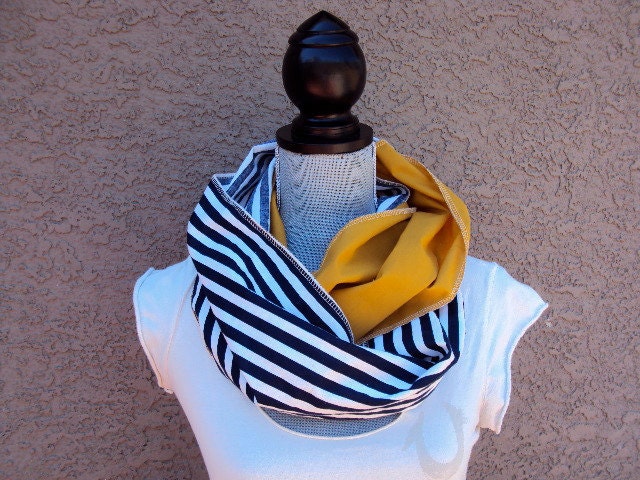 navy stripe + antique gold = winning!
Nope, I think I'd be pretty damn excited to witness the magic!
Finally, I asked Teascha for her thoughts on best bets for the holidays (since there are so many amazing choices in her shop, maybe this will help you in deciding where to start): "The most popular scarf has been the
navy and white sailor stripe with antique gold
. It's bold and trendy and looks awesome with everything. I have recently put out some new scarves, the '
versatile three-way scarf
' and the '
leather lasso
' scarf, which I think are so cute and fun!"
You'll get no arguments from me, Teascha! If anyone's looking to get Christmas presents for yours truly, I like the
peach pinstripe
fabric for a little pastel warmth during this mild California winter. ;)
Don't forget to visit
The Tea Rex on Etsy
(and add to your favorites for easy revisiting!). More places to find Teascha:
Many thanks to Teascha for humoring my questions and making such lovely contributions to the handmade community!