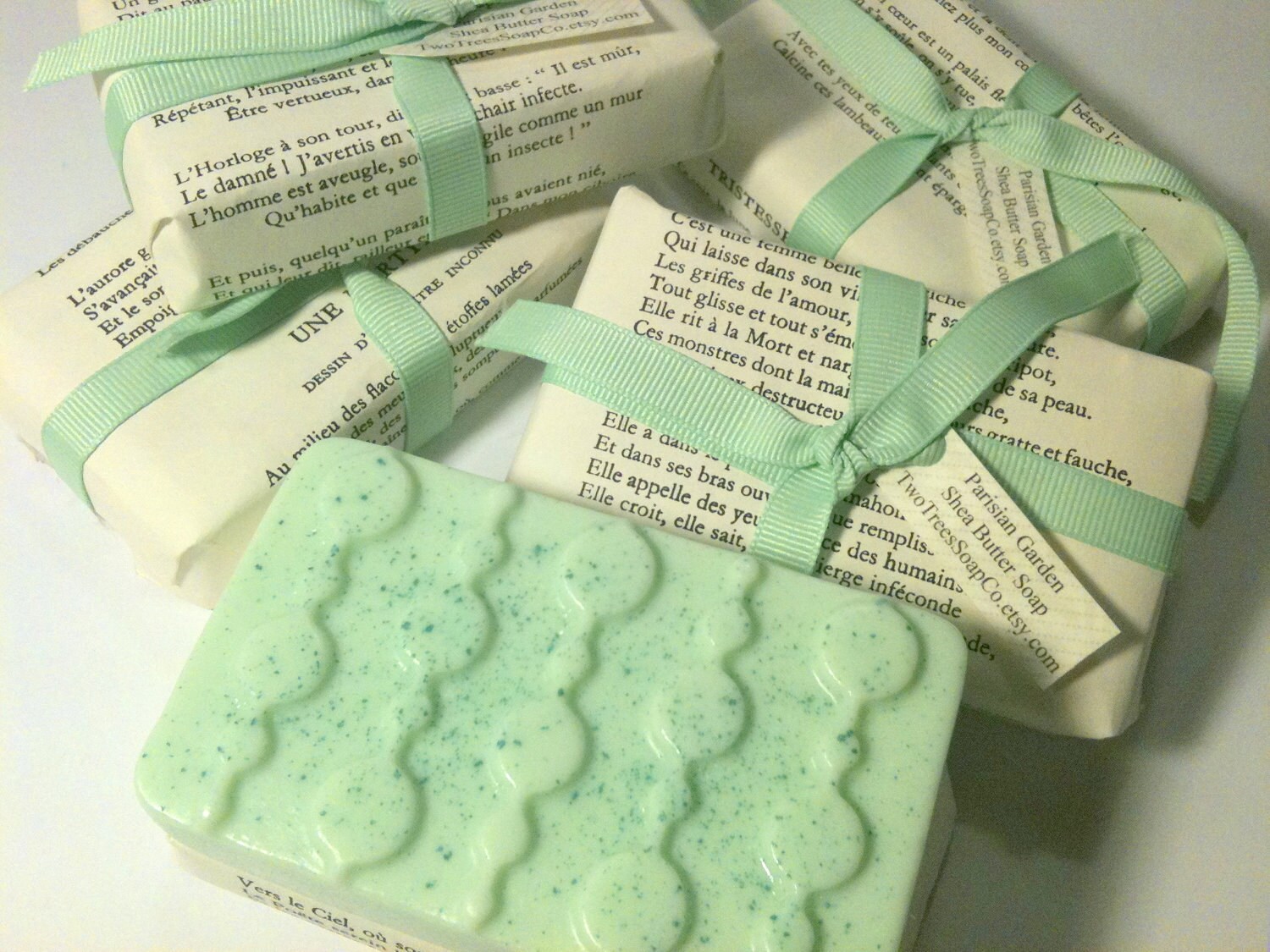 New house = new soap.
I'm moving next week, and that means PACKING. It also means cleaning out my shower. I have TONS of shower goodies: soaps, body wash, and about six different kinds of shampoo and conditioner. Maybe I'm exaggerating a little. What I do know is that bars of soap are one of those questionable items for relocation: is it worth it to throw half-used soaps into a Ziploc baggie to transport to my new house?
For me, that answer is NO. My boyfriend would probably beg to differ. He has one of those soap savers (I actually bought it for him on Etsy) into which he combines all his almost-gone slivers of soap so he can suds every penny of the 99 cents he spent on a bar of Dial. But I digress.
My point is, I'm on the hunt for new goodies for my shower. And that means shopping local + shopping handmade = Elixir Soap! What a lead-in, eh?
I LOVE Dyani Brunner's collection of fun soaps in her Etsy shop,
Elixir Soap
. I even love the packaging, which means the soap itself will have an extended shelf life (literally) -- lovely packaging deserves to be on display, if only for a little while before I need to actually use the soap contained inside. Take the
Parisian Garden soap set
from Elixir! That wrapping is way too awesome to be discarded, and the lovely seafoam green shade of ribbon is a great complement to the blue tile of the new bathroom I'm inheriting.
Wow, I am spending a LOT of time talking about soap. Sort of embarrassing. :) I'll let Dyani do the talking from here on out! Make sure you read all the way through for
giveaway
information!
What has been your biggest inspiration as an Etsy artisan?
I try to surround myself with highly creative, inspirational people. I think that the economic recession has fueled a creative renaissance of sorts. Faced with unemployment, more people are taking a chance on their own artistic ventures and crafts of all kinds are just flourishing right now. I also admit to spending a fair amount of time on Pinterest, which is essentially an inspiration machine.
Can you describe your work space and/or work process?
My work room is a prime example of organized chaos. To the outside observer it's a jumble of crock pots, scales, molds, shea butter, a million little bottles of essential oils and a bulletin board with orders tacked up; but I know where everything is. Every once in a while I'll go through and meticulously organize everything, but I think I work better when I'm not busy trying to make my work space look like an Anthropologie display.
Who would you say influences you the most as a crafter?
Definitely my boyfriend. When I met him seven years ago he was a struggling comic book artist with a mountain of student loans and many part-time jobs. The easiest thing for him to do would have been to just give up on art, but instead he chose the path of plugging away tirelessly, making connections, and honing his skills constantly. Now he makes a living just on his art, works from home, and has enough spare time to work on personal projects -- a lifestyle that wouldn't have been possible if he had taken the expected path, or given up when it must have been tempting to do so. Having him around makes it harder for me to be lazy.
How did you come up with the name of your business?
An elixir is essentially a substance that is said to sustain life and cure all ills. While I'm not going to make any claims of magic soap, I will say that it can certainly improve your day. There isn't a better way to wake up, in my opinion, than a warm shower and a bar of soap infused with exhilarating eucalyptus spearmint, it wakes you right up and leaves you in a good mood. I like the idea that a good bar of soap can, in some ways, be an experience.
What is your personal favorite item for sale in your shop?
Definitely the
apple jack peel goat's milk soap
. I leave some out in my bathroom at all times for guests. It smells clean, but subtly spicy, and goat's milk is so good for your skin.
What is your most cherished possession?
My Bichon Frise Dexter, although I guess a dog isn't technically a possession. He's just the most clever, sweet, funny little thing ever. Yesterday in my absence he went into the closet and chewed on my left shoe. I would have been mad, but I couldn't get past being impressed, because to hide what he did he retrieved the right shoe as well, and arranged them together perfectly by the couch as though I had just taken them off.
If Hollywood made a movie about your life, who would you like to see cast in the lead role as you?
There's nothing quite as boring as a biography of a youngish person, so my hope would be that Hollywood would be willing to wait a few years to make this movie, until I have a bit more life experience behind me. With that in mind, Dakota Fanning should be about the right age to play me when my theoretical movie comes out, and she's a very talented actress.
What would I find in your refrigerator right now?
An unreasonable amount of organic produce mostly, some of which may have gone bad. I signed up for a farm delivery service with lofty ambitions of cooking healthy meals every night, but I live in downtown Los Angeles, and there are just so many good restaurants… You will also find four Stellas, some blueberry pomegranate juice, and soda. Nothing too exciting.
Where would you like to be in five years? Ten years?
I've spent a good percentage of my adult life managing retail stores, and would love to eventually put that experience to good use by opening a boutique. The goal would be to showcase a curated mix of mid-century furniture, soap and body products, of course, and handmade clothing by talented local artisans. Everything I'm doing at this point is sort of a step toward that goal.
Thanks for sharing your shop and a bit of your life with us, Dyani! I didn't edit down any of her answers because I thought everything was so interesting and I couldn't bear to make cuts. I also didn't have to edit for grammar or spelling, which is always refreshing -- just like Dyani's soaps! See what I did there? :)
Now, Dyani has ALSO offered to bestow a set of her
super-adorable set of three bicycle travel soaps
upon one lucky Anna Delores reader! I wish I could participate!!
To enter, head on over to Dyani's shop,
Elixir Soap
, and add it to your Etsy faves! Leave me a comment here to let me know you've done this so I can be sure to enter you in the giveaway! For extra bonus entries, add
Anna Delores
to your favorites shops (+1 entry),
like Anna Delores on Facebook
(+1 entry),
follow Anna Delores on Twitter
(+1 entry), and be sure to follow my blog on Google Friend Connect (+1 entry). :) Leave a comment for each completed task so your entries are counted accordingly.
Your mission (should you choose to accept) is get entries in by 11:59 p.m. on Friday, January 27 (that's one week from today!). Good luck!
♥