There is definitely a trend in bridal gowns in the past couple of years (and way before that, if you look to trend
setter
Gwen Stefani):
pink wedding dresses
. Now, some wedding blogs are calling this trend a thing of the past, but I suspect we'll be seeing more of it in 2013 and beyond, especially because of the recency of some of the sightings of pink dresses at celebrity weddings (see Anne Hathaway and Jessica Biel below).
My friend and wedding coordinator
Joelle
said to me that if she were to get married all over again, she'd don a pink gown. And she's not alone. We saw it in the celebrity world in both 2011 and 2012 with a handful of pretty high-profile weddings; actresses
Reese Witherspoon
and
Jessica Biel
wore shades of pink during their weddings to Jim Toth and Justin Timberlake, respectively (though notice they're both "JT" ... but I digress), and
Anne Hathaway
also rocked a hint of pink when she married Adam Shulman in September.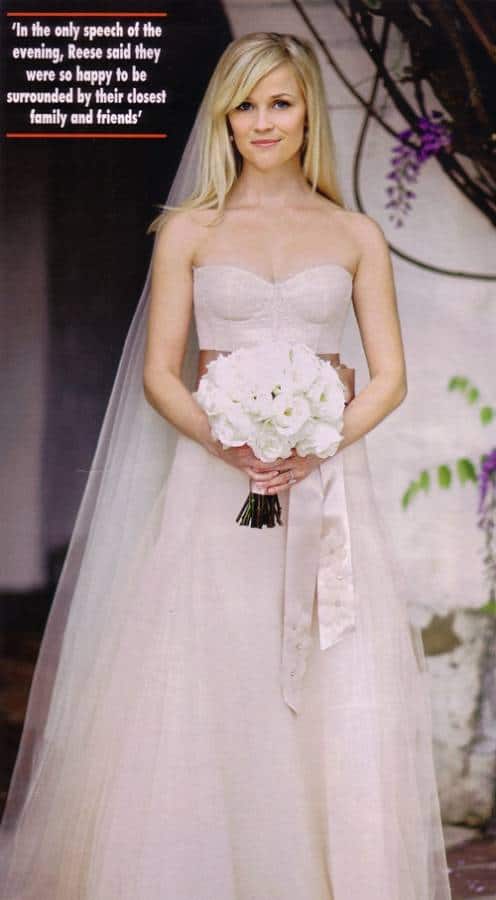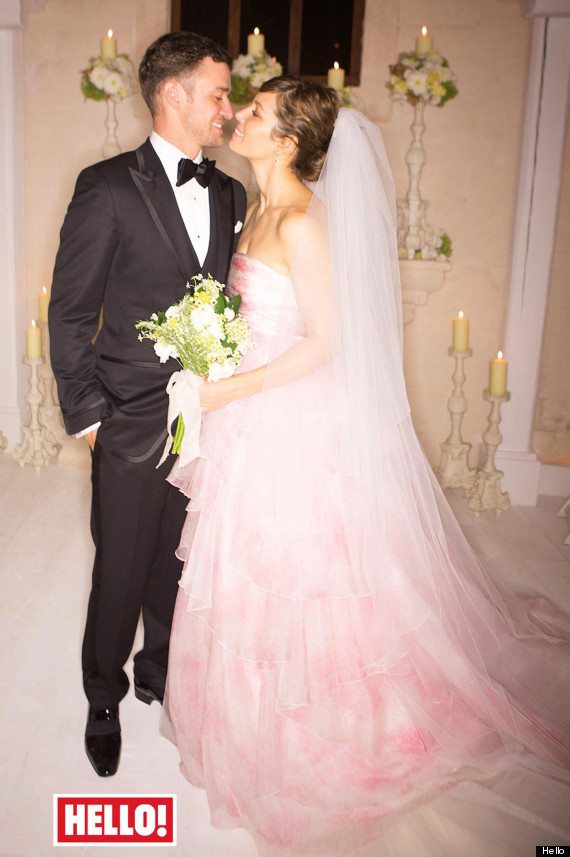 As I mentioned, a wedding blog or two have announced that shades of pink in wedding dresses is "so 2012," but don't trends tend to take a few months (or even years) to trickle down into full-scale fad (for lack of a better term)?
Either way, I'm firmly rooted in the belief that there is a RIGHT way to do a pink wedding dress, and a definite WRONG way. Essentially, the right way is to stick to soft, feminine, barely-there shades of blush pink. Even Jessica Biel's acclaimed gown was too pink for me. I love Reese's version -- you almost have to squint to tell whether it's pink or a warmer shade of ivory. I didn't love the style of Anne's dress, but I think the ratio of pink in relation to the rest of the gown was tasteful -- just a sweet, subtle hint of pink that didn't overpower the look.
More examples of pulling off pink:
dresses fro

m Samuelle Couture, Jenny Packham, + Vera Wang White Label
Now. Unfortunately, I found FAR more examples of what I'd consider the wrong way to wear pink on your wedding day. I think most of the pink frock missteps can be ad

equately summed up with just one example:
a pink faux pas, to put it lightly...
I like bows, I occasionally enjoy a well-placed rosette, and a corset lace-up can be truly lovely. But putting them all together on the same garment with shiny, Pepto-Bismol shades of pink? Yikes. And just... no.
I think it's fair to say that wedding dresses in lots of different colors have been executed at both ends of the spectrum: some tasteful and lovely, some tacky and loaded with the potential for regret. For the sake of leaving you with a positive impression of colorful wedding dresses, here are some of my favorites (and I'll leave out the ones that are a big miss).


Thoughts? Would you ever wear a wedding dress in a color other than white or ivory?