I recently picked up the June 2012 issue of
People magazine's StyleWatch
and, while using its pages to make my elliptical workout feel shorter, was delighted to encounter a number of summery trends that I've either already seen among my fellow bloggers or have tried myself. I felt kind of awesome perusing the articles with the knowledge that I have a leg-up for summer fashion and beauty! Here are some of the examples I'm talking about.
1.
Asymmetrical earrings
. You may remember me gushing about
my pair of Fynn earrings
, custom made for me by
Roots & Feathers
? Yeah. I love them. And so does People StyleWatch. :)
2.
Neon nails
. I think it's pretty obvious from my
nail polish board on Pinterest
and all the
Mani Monday
link-ups you see around here that I'm obsessed with lacquer and have seen plenty of awesome examples of this summertime Day-Glo trend!
3.
Bold wedges.
I've been rocking my
Blowfish Timos
for a few weeks now and I'm smitten. They definitely offer a bold pop of color and still manage to be super-comfy! How do you do it, Blowfish?!
4.
Polka dot jeans
. I saw
Shannon
in these a few weeks ago and was delighted to see the same pair in People StyleWatch shortly thereafter! Way to rock the coolest denim, Shannon!
Jamie
also donned some amazing polka dot pants (albeit not denim, still awesome)
here
.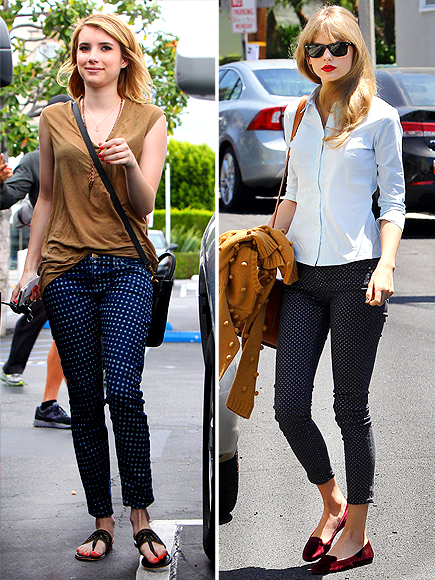 5.
Ikat print tanks
. I own three of them. From Target. Super comfy. Enough said.
6.
Denim shirts
.
Caroline
rocks her fave denim button-up all over her blog, and she's clearly ahead of the fashion curve on this one! I'm also loving
Shannon's
and
Dana's outfit posts
including a denim shirt with some sweet floral details. Nice work. :)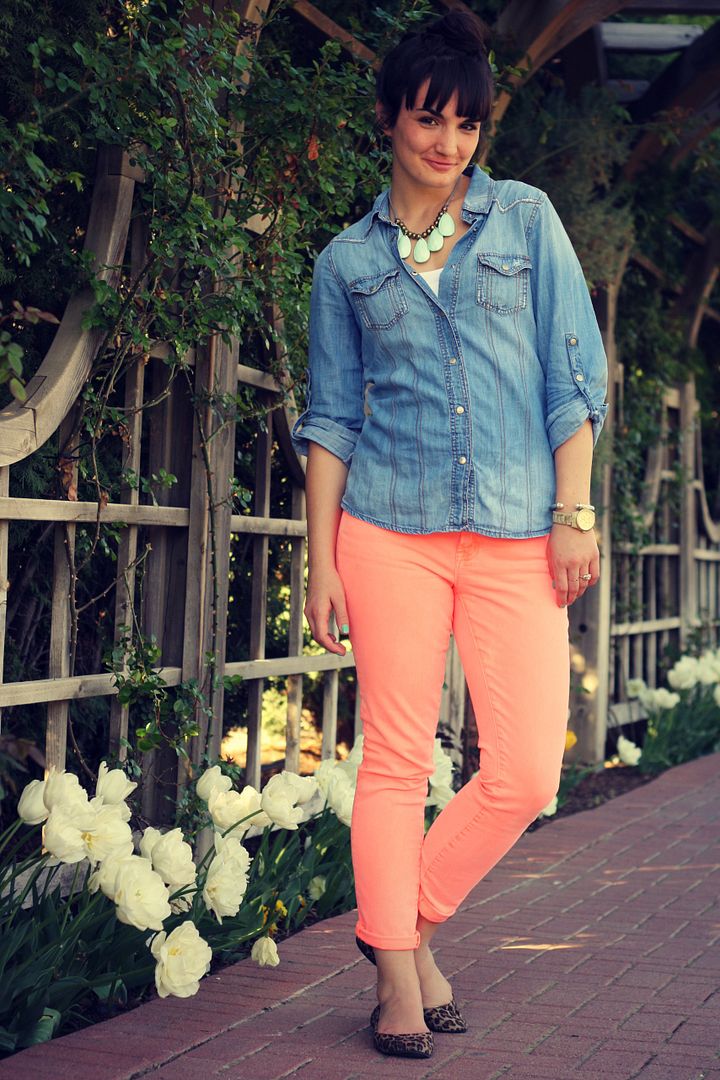 7.
Global-print scarves
. Scarves can be tricky in the summertime; I don't usually want ANYTHING on my neck in the heat. But lightweight, breezy versions of my favorite accessory are hitting summer 2012 pretty hard in some awesome tribal prints, like
this one
I recently scored in LA.
Amy of At the Pink of Perfection
also does an awesome summer scarf in a great global print
here
!
8.
Boat shoes
. I saw Nichole wearing a new pair of
metallic Sperry Top-Siders
and was instantly jealous; I was ecstatic to find their budget-friendly relatives at Target. Oh Target, how I love you... be on the lookout for these in an upcoming Anna Delores outfit post!
9.
Floral shorts
. I'm still working on losing enough weight to feel comfortable in short-shorts again, but
Sandy
looks amazing in a super-cute floral print. She seemed hesitant to go for it with this trend, but I think she dazzles in this adorable pair!
10.
Easy dresses
.
Julie Ann
wore this amazing little Ruche number to a recent lunch date with fellow bloggers
Gina
and
Tammy
. I was supposed to be there too, but practicing my wedding photography took over my Saturday. We're setting up another date soon, ladies!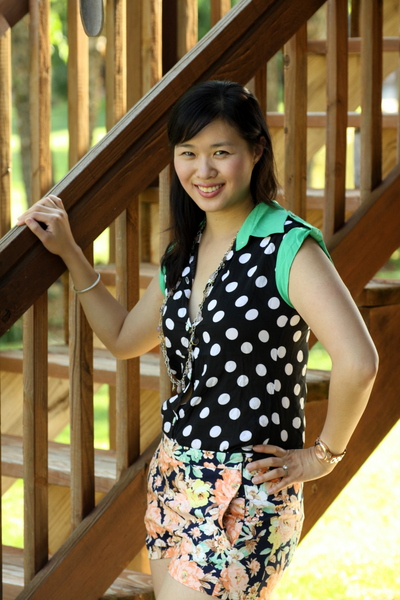 I'd like to give my blogger community a collective pat on the back. We obviously know what we're doing (not even a smidge of sarcastic narcissism there!). ;)