Let's get to the point here: I. Am. OBSESSED. With. Tights.
As soon as September hit and I felt like it was legitimately permissible to wear tights, I unleashed my stash. I had at least four or five pair that still had
tags
on them from last year's winter clearance sales.
I really, really hope that tights aren't going out of style anytime soon. Not only because I've invested, but because I LOVE them. They're comfy but a little fancier than leggings, they allow me to keep wearing dresses throughout our California version of
winter, they look darned cute with boots and booties and flats, and
I
don't have to shave my legs every day
to wear them. I know, too much info. Whatevs.
In honor of tights, here are my favorite looks for what's left of autumn, and for our west coast winter, too. :)
Way to wear 'em #1:

b

right pops of color (center of attention, anyone?)
Bold-hued tights can completely change the mood of any outfit. I love the way these ladies have used bright colors to transform their looks in ways I wouldn't have imagined. I'll be pairing
this navy dress
with bright pink next time,
thankyouverymuch
.
Way to wear 'em #2: über

-neutral

(a.k.a. my comfort

zone

)
Mmmkay, so maybe this makes me a little boring, but I like to play it safe (or I'm just lazy) and 90% of the time, my tights are black. To be fair, this is in part because I'm often wearing tights to a wedding for my photography work, and bright turquoise just isn't my thing for worky-work time (I don't want to take any attention away from the bride!
Turquoise camera bags
are as far as I'll go
, heehee!
). Anyway. I think these examples of how to rock neutral-tone tights are spot on and, really, not so boring after all.
Way to wear 'em #3: pretty patterns

.
The availability (and variety) of patterns now available for tights-lovers like myself is almost overwhelming.
Almost.
I have the basic sweater-texture varieties and some lacey friends, too, but I could use some floral print or heart-patterned or something, too. And I think I need to
try this out
immediately...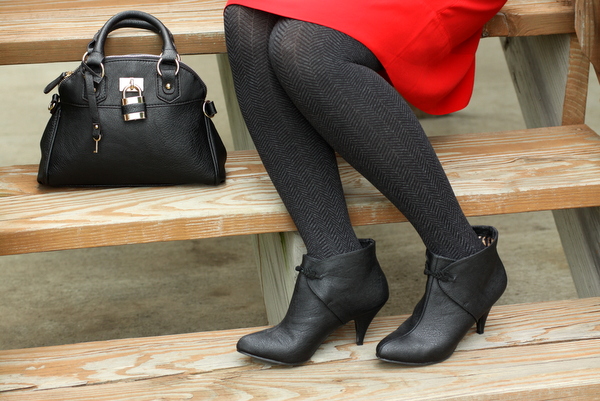 Way to wear 'em #4: do the polka

.
My absolute favorite look this year has been
POLKA DOT tights
! Everywhere I see polka dot tights, I must buy them. And when they are "one size fits all," I generally get frustrated.
ModCloth
has been guilty of this. But I can also appreciate that plenty of women are smaller than I, and thus "one size fits all" is not a problem. So,
ModCloth
, no hard feelings. I've also had good luck at
Forever 21
and
Madewell
.
What's the verdict on your end? Are you a tights-wearer? A

nd if so, what's your fave?